Wire Forming
Materials
CIT Ireland Limited produces a range of Wire Forms and Precision Pins for the Electronics, Automotive, Lighting and Fashion Jewelry industries by utilizing proprietary cutting and micro forming technologies. These components can be supplied with multiple forms along with straight cut, beveled or die rolled ends.

CIT's unique wire feeding and straightening process, utilizing both linear and axial straighteners, assures wire surface integrity on all types of materials including plated and clad wires.
Materials
Most ferrous, non-ferrous, stainless steel, bi-metal and special alloy wires Material can be bare, plated, clad borated or oxidized.
Sizes
Diameter range from 0.10mm – 2.0mm
Length range from 1.0mm – 300mm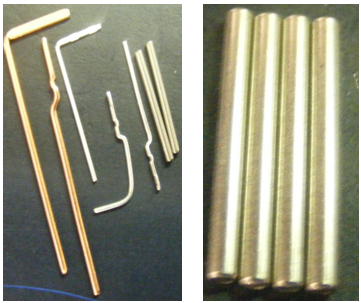 Contact us today for a quote